Solminol's Commissions
---
Contact
Twitter | Deviantart | Toyhou.se | Furaffinity
Discord: @solphase
Telegram: @solminol
---
Scene | $65
Additional large characters +$10 each

Smaller characters (simple creatures, pets) are free of charge
---
Fullbody | closed
Transparent fullbody art of a single character

Can be used as masterlist art on Lorekeeper sites
WIP! new examples to be drawn
---
200x200px Doodle | 2 for $7
Icon sized doodles

Since you get two (2) of these, two different characters may be requested, or it can be two icons of a single character. Gifts of other people's characters OK.

Can be used as Toyhou.se icons or Lorekeeper site character thumbnails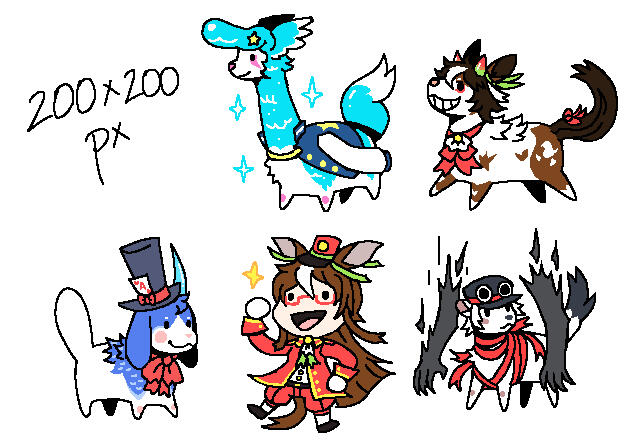 ---
Character Designs | $40
!!!Design commissions must use the commission form in the link above!!!

You will receive whatever concept sketches I create and one fullbody

Any species, feral and/or anthro (including closed ones) is OK

ARPG species OK. I participate in Pouflons, Ranebopets, and StrudelCafe so I'm familiar with those species and traits the most!
---
Want Something Else?
I am totally open to doing other kinds of commissions not shown here! Any sort of art type or style I've done before is fair game. Just ask me and I'll give you a quote.

Some examples of other kinds of art: Headshots/busts, background art, black/white sketches, reference sheets, vintage/retro style
Terms of Service
By commissioning me you agree to all terms below
General Terms
I have the right to refuse or refund your commission for any reason.

You have the right to request a WIP shot at any time.

You are allowed to modify (cropping, resizing, flipping) your art. You may not edit it in any way (redrawing it, changing colors, etc.)

You may repost and share your artwork anywhere as long as proper credit is given. (A simple by solminol from Deviantart/Twitter/etc. is fine!)

I retain full rights to my artworks.
Payment
Payment is handled via Paypal invoices.

Work will not begin until payment has been sent.

Refunds may be requested for any reason and at any time EXCEPT if your commission is already completed.
Will draw
Most species! Feel free to ask if I'll be okay drawing a specific animal

Original species (midveilers, pouflons, etc.)

Fanart/fancharacters

Anthros

Human(oids)s (doodles/chibis only!)
Ask First
Mature Themes (drugs/alcohol/suggestive poses etc.)

Mecha and armor
Won't draw
Explicit NSFW

Offensive Content